Brinsea Ovation 28 Advance Digital Egg Incubator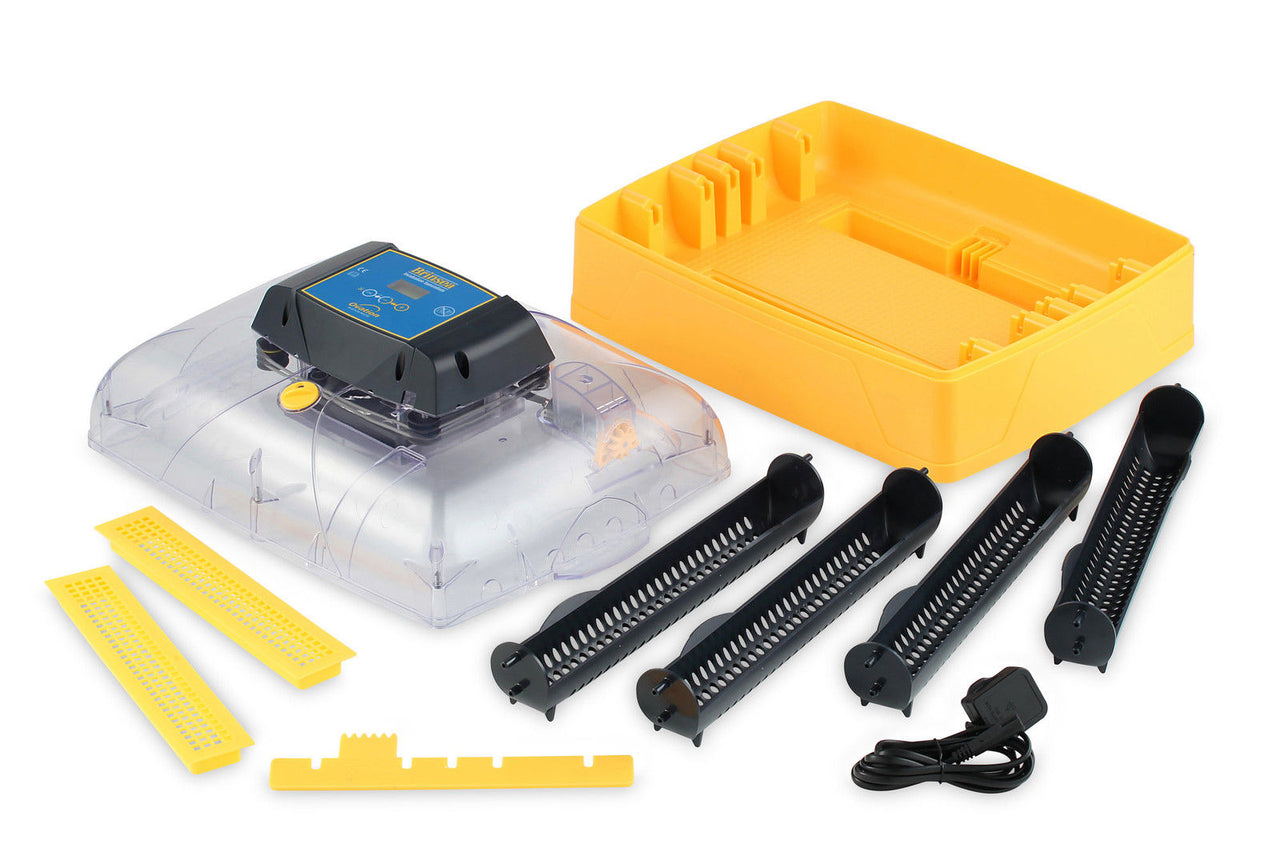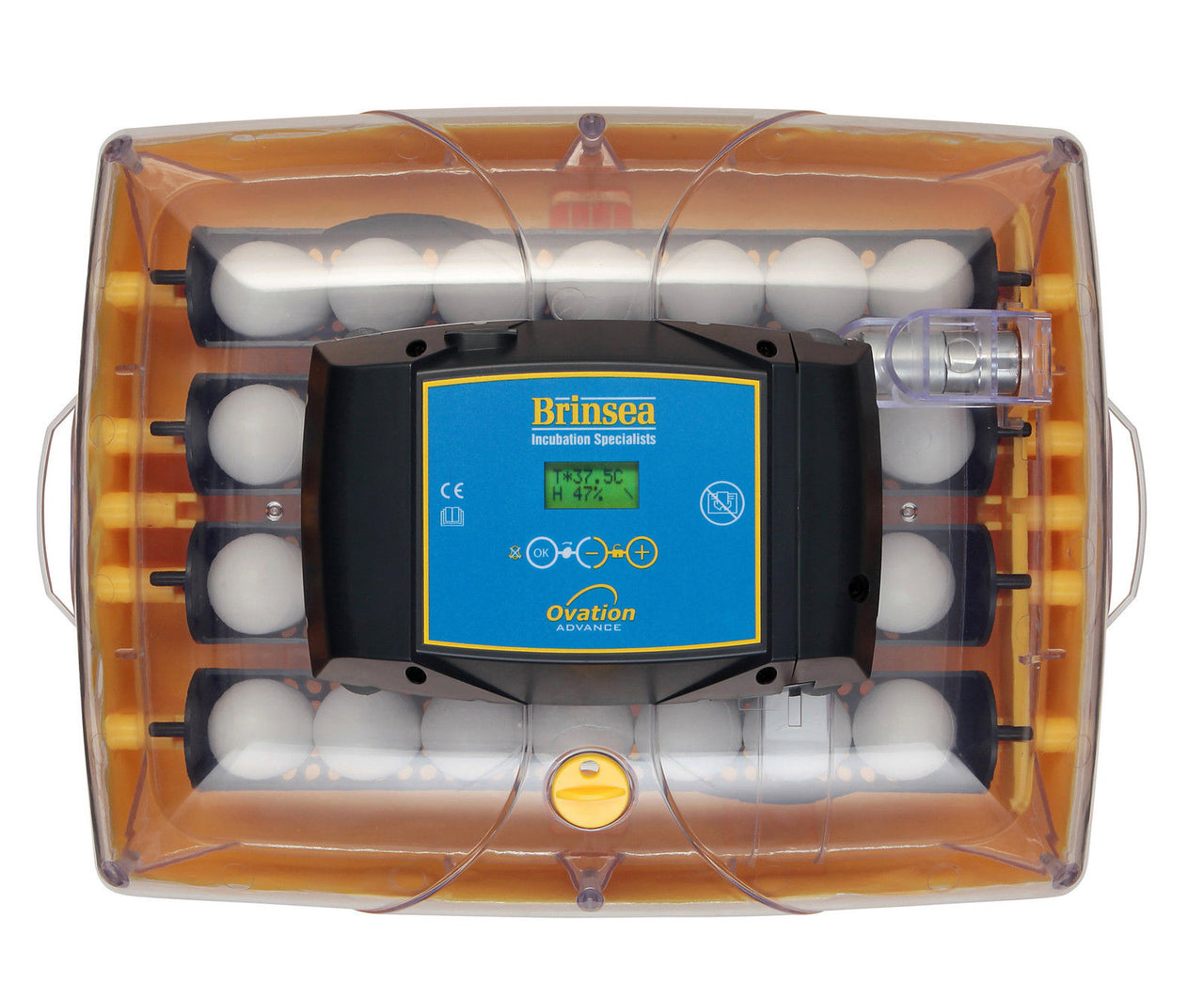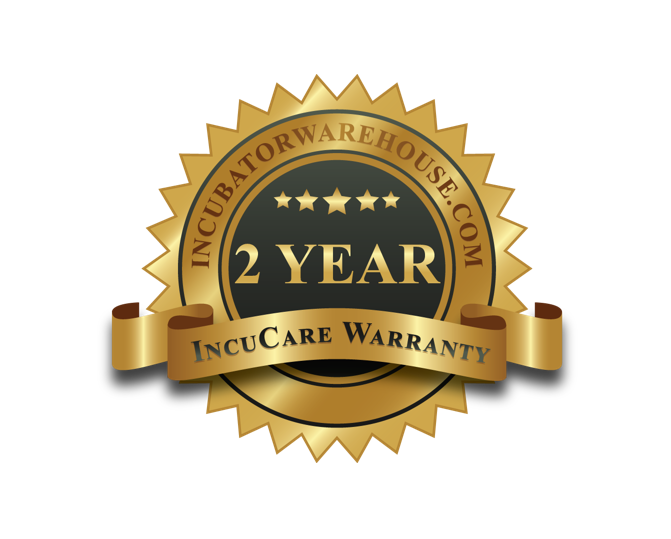 Description
More Information
FAQ
Instructions
The Ovation 28 Advance is a sophisticated, high performance incubator ideal for a wide range of species and applications. The high accuracy digital readout of humidity and comprehensive alarms help ensure high hatch rates.
A simple and highly accurate menu-driven digital control system gives:
Digital display of temperature and humidity
Automatic temperature control in °F or °C fully factory calibrated
High and low incubator and room temperature alarms
Programmable automatic egg turning
Periodic Egg Cooling feature
Fan assisted air flow with Induced Dual Airflow system
Ventilation control
Other Features:
Good visibility of the eggs
Robust hygienic ABS construction with Biomaster™antimicrobial plastics
28 hen eggs capacity with standard egg carriers provided but suitable for a wide range of egg sizes (optional small/large egg carriers)
Easy water top-up with level indicator
2 Year IncuCare Warranty
Capacities with standard egg carriers (approximate):
Quail: 48
Pheasant: 48
Hen: 28
Duck: 28
Goose: 0
Humidity and Ventilation
Air is circulated by a long life computer grade fan which, coupled with the unique grill with optimized air diffuser leads to an even air temperature throughout the egg chamber. Fresh air is controlled with a vent slider and humidity is provided by water in two reservoirs in the base.
Egg Handling
To accommodate eggs of different sizes the Octagon® 20 Advance's removable egg tray is supplied with dividers which the user can position to suit their eggs and so maximize the number of eggs that can be held. Eggs from as small as finches to as large as geese can be incubated and a guide to the numbers of a range of popular species which will fit is given in the specification table. Eggs are turned during incubation as the whole incubator is rocked from side to side – hence the octagonal cabinet ends. The Autoturn Cradle turns the eggs hourly but this can be done manually twice daily.
Periodic Cooling
Cooling is an entirely natural process as most birds will get off the nest at least once a day and leave the eggs unheated for a significant time. Recent research has also shown that hatch rates can actually increase significantly as a result of cooling. For this reason Brinsea® have now incorporated a cooling option in all their Advance models of egg incubators for 2012. This feature turns the incubator's heater and low temperature alarm off for a selected period but keeps the fan running. After the cooling period is complete the incubator reverts to normal temperature and the alarm is automatically reset.
Guarantee
All Brinsea® egg incubators are fully guaranteed and will be repaired or replaced if a fault should arise within the guarantee period (See terms of guarantee). Brinsea® Products Ltd. and their agents will not be responsible for loss of eggs in the event of failure, however caused, and the user is advised to arrange his own insurance cover where loss of power, mechanical or electrical failure might result in unacceptable losses.
QUESTIONS & ANSWERS
Have a Question?
Be the first to ask a question about this.
Ask a Question
Product Instructions & Documents