Plug 'n Play Hygrostat for humidity control in Egg Incubator, Reptile Terrarium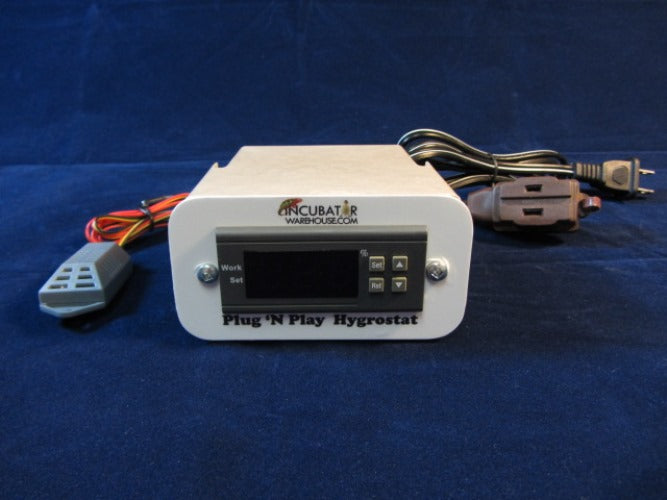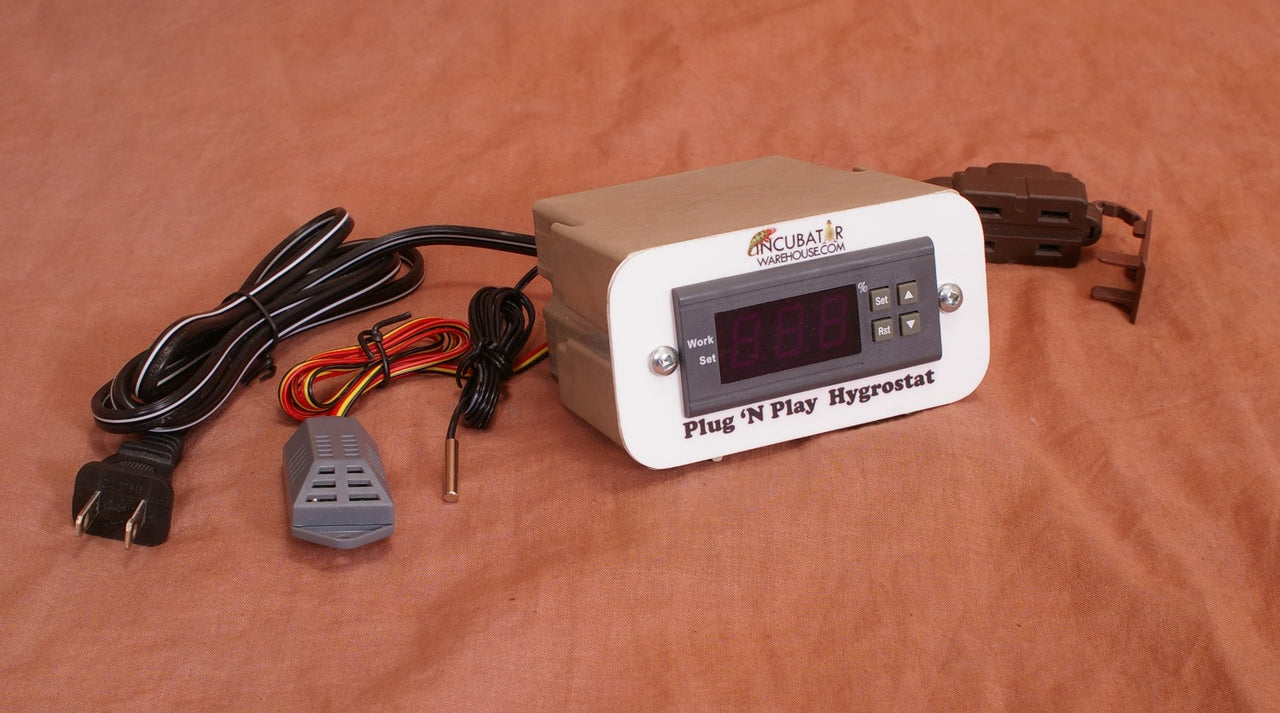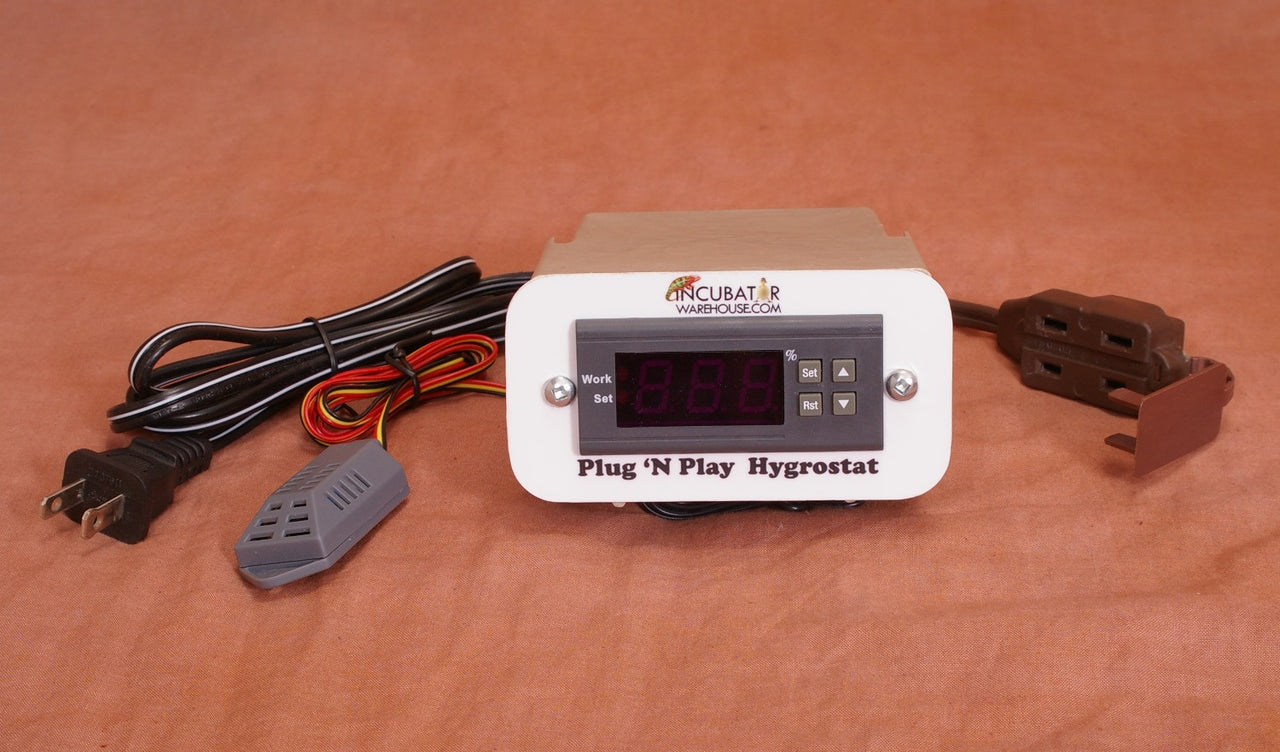 Description
More Information
FAQ
Instructions
The Plug 'n Play Hygrostat is a digital electronic hygrostat with remote sensor designed specifically to control the humidity level in incubators and terrariums. It's great for both tabletop and cabinet incubators and large and small terrariums.  It comes pre-wired and ready to use. You can use watering device up to 500 Watts and you can use up to three devices. Simply plug in your pump, water valve, humidifier or any other watering device into the 3-outlet plug and you're ready to go. The humidity set point can be adjusted in 1% increments. Setting it is very simple to do.  This unit comes with a 40 inch remote sensor that can be placed inside your incubator.  It also has a remote temperature sensor so it can compensate humidity measurements for changes in temperature.  Please note: this device does not display the temperature.  
Set point can be adjusted to any humidity level between 1% - 99%

Runs on 110V AC and will power 110V AC devices.  If you have a DC watering device, you'll need a power converter to change AC to DC (like a laptop power supply).  

Calibration enabled. This means that you can calibrate the hygrostat, if required. For example, if you have a hygrometer that you trust and the digital hygrostat reads a little different, you can calibrate the hygrotstat to match the trusted hygrometer (calibrate in 1% increments up to +/- 10%)

You are able to change the hysteresis from 1% - 30%.  This means you are able to set the range of humidity that turns the power on and off.  For example, if you set a hysteresis of 5, the hygrostat will wait until the humidity level has dropped 5% below your set point before turning on the power.  It will turn off the power as soon as the level hits the set point

This device can also be set to control the power for a dehumidifying device as well, if desired (only one at a time, it can't do both at a time).  

You will notice in the pictures that there are two different sensor probes.  The larger one senses the moisture level.  The smaller one measures temperature so that the humidity sensor can compensate for changes in temperature. As noted above, this unit does not display temperature.  
What devices can I use with this device to get water into my container?  
Great question!  There are three main options to consider. 
1. Water valve - use a small water valve attached to a reservoir of water that is kept above your container.  When the valve is powered on, the valve opens and water flows into your chamber. The water can fill a water reservoir in your container of flow onto a wicking pad.  
2. Small water pump - A mini pump will bring water from a container kept outside the container.  This is set up similar to the water valve but the water container does not have to be kept above your container.  
3. Humidifier - you can get a mini unit that could fit insider your container or a larger one that would be kept outside the container and then use flexible pipe or hose to pump the moist air into your container.  With egg incubators, be sure to find one that have low enough air flow that it will not cool off the incubator too much.  

Note: It is normal for the hygrostat to turn the watering device off and still have the humidity level increase a little bit. This happens because as the power to the watering device turns off, the water that has already entered the container still needs to warm up and stabilize. The same is true when the power turns back on: the humidity may decrease a little more as the water takes time to dissipate in your container.  The amount this happens will depend on how quickly your watering device puts water (or mist) into your container.   Keep in mind that the variation in humidity levels over a short period of time is not nearly as important as the average humidity level over several days.  
As always, all of our products are covered by our One-year Hassle-free Guarantee. Purchase today with no worries and experience the Plug 'n Hygrostat for yourself.
Product Instructions:
What is the temperature range limitations for this device?

We suggest keeping the operating temps for this unit between 40 and 120 degrees Fahrenheit.
Product Instructions & Documents