Clear Door for New Cabinet Incubators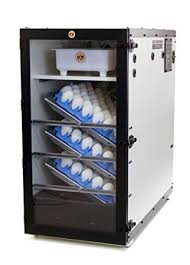 Description
More Information
FAQ
Instructions
Gives full frontal view of interior of incubator, to permit checking of hatching progress, tray turning, water level, etc. Door comes complete with new hinges and latch tabs for customer installation by removing 8 screws and replacing new door with same 8 screws. For all current production cabinet model incubators. 29 3/4" x 15 1/2" x 1/2". Measure your existing door before ordering to see if the new door will fit. Older models over 5 years cannot use this product.
I am looking at purchasing the GQF 1502 cabinet, can you confirm that this will fit that incubator?

Yes we can confirm that the Clear Door for New Cabinet Incubators is compatible with the GQF 1502 Cabinet Incubator. It is also compatible with the GQF 1500, 1550, and 1202E models.

How many eggs can it hold ?

This is a Door replacement for a GQF Cabinet Incubator. This door allows for better viewing of your eggs in the incubator. To see the quantity of eggs a Cabinet can hold, you will need to look at the Cabinet product description.
Product Instructions & Documents