Brinsea Mini II Advance Egg Incubator Ultimate Combo Kit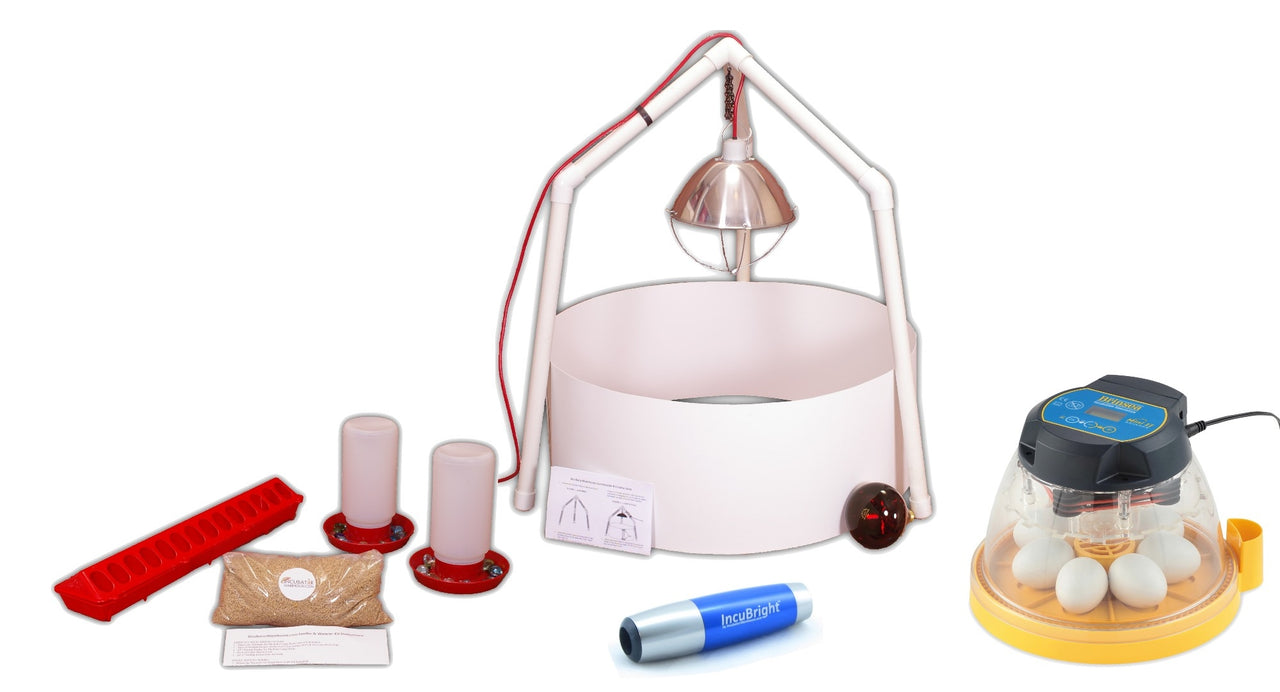 Description
More Information
FAQ
Instructions
The popular Mini Advance incubator has been improved to include a room temperature alarm in addition to the existing incubator temperature alarm and the convenience of an external water top-up.
The Mini II Advance is still menu driven and extremely easy to use: just program the length of incubation for your specie and the micro-controller holds the correct temperature, turning and length of incubation with no further input. The display counts down each day to tell you when eggs are due to hatch and turning will stop automatically 2 days prior to hatching. All you need do is top up periodically with water. Ideal for learners, hobbyists and teachers wanting to hatch eggs in the classroom.
Although small the Mini II Advance offers advanced features which make it attractive to any breeder:
7 egg capacity (12 small eggs with optional insert) 
Temperature factory preset at 99.5 F (37.5°C) but fully adjustable
High and low temperature alarms including the new room temperature alarm
Periodic Egg Cooling feature
Fan assisted air circulation Humidity provided by water trays with new convenient external water top-up; not suitable for automatic humidity control. 
Automatic egg turning - turning interval and turning angle programmable 
Count down to hatch day with autoturn stop 
Clear dome for excellent visibility Biomaster™ anti-microbial plastic construction - robust and easy to clean 
3-year warranty
Maximum egg capacities (approximate):
Quail 12
Pheasant 12
Hen 7
Duck 7
Incu-Bright Egg Candler
The Incu-Bright was designed with ease of use and affordability in mind. 6 ULTRA-BRIGHT, super cool LED lights illuminate your eggs for easy viewing without cooking them. The soft rubber and plastic edges protect your eggs from damage and create a tight seal around the egg.  The Incu-Bright is brighter & easier to use than the HovaBator Cool-Lite Egg Candler.  
Feeder & Waterer Kit
The Incubator Warehouse.com feeder and waterer kit provides you with the essential supplies to feed and water your new birds after they hatch.  
2 - Mason jar waterers
2 - Plastic screw-on jars
1 - Pack of Waterer Stones (Reflective Color attracts birds & Prevents Drowning)
1 - 20" durable flip-top feeder
1 - Pack of high protien starter food (Bird Feed not included for Shipments outside of US & Canada)
1 - Set of feeding instructions for birds
Brooder Kit 
Our Brooder Kit is designed to be simple to set up and simple to use. With the Brooder Kit and our Feeder/Waterer Kit you will have everything you need to take care of your flock of birds.
Kit Includes:
1 - Adjustable Tripod Heater Stand
1 - 250W Brooder Lamp (Not included for shipments outside of USA & Canada)
1 - 250W InfaRed Heat Lamp/Bulb (Not included for shipments outside of USA & Canada)
1 - 8 Foot Long Containment Wall (Makes 30.5" Playpen for new birds (12" Tall)
1 - Set of Brooding Instructions
QUESTIONS & ANSWERS
Have a Question?
Be the first to ask a question about this.
Ask a Question
Product Instructions & Documents