GQF 1500 Digital Cabinet Egg Incubator (Incubator ONLY)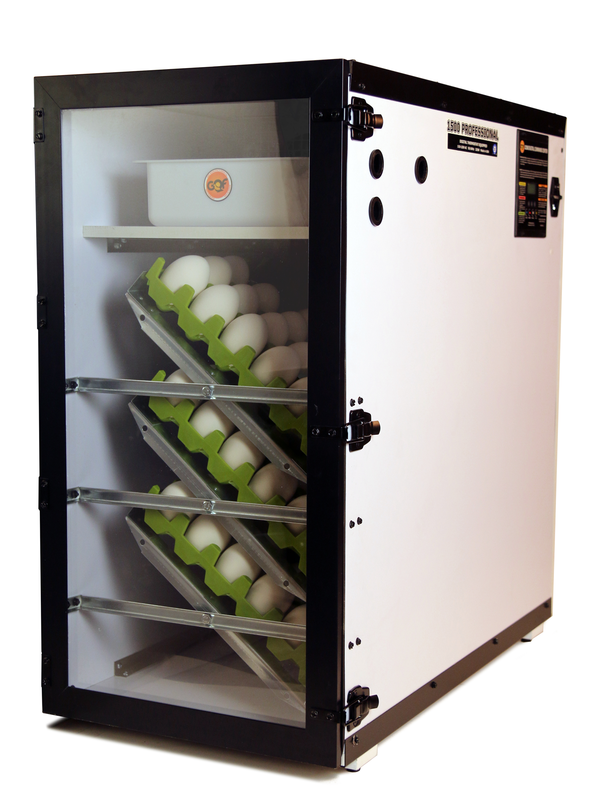 Description
More Information
FAQ
Instructions
Removing the hatching tray allowed us to space the trays further apart and have them turn to a steeper angle. The No. 1500 is exempt from use as a hatcher allowing it to avoid the mess associated with hatches and remain clean. This incubator only has to maintain one humidity setting making it easier on the eggs and easier to operate. The "PROFESSIONAL" is designed to be used with the No. 1550 HATCHER. We recommend purchasing the two together. Up to three No 1500's can be used with one hatcher for a weekly production of chicks from a laying flock. The No. 1500 incubator offers an accurate digital thermostat with LCD display of Temperature and Humidity. An on-board computer monitors systems and the environment every second to keep itself updated and to share this data with you. Electronic egg turning control, audio/visual indicators and a standard easy view door highlight a number of features. Constructed from high strength plastic board making it well insulated, quieter, and easier to clean. Each unit is hand assembled by our skilled craftsmen and tested for a full 24 hours for proper operation and calibration. Thermostat operating range between 60 and 103 degrees F. depending on room temperature.
110-120VAC, 50/60 Hz, 325 Watts
TUV Listed
This incubator includes:
1 #3258 Digital Command Center thermostat
3 turning racks
1 moisture pan with 2 wick pads
Instruction booklet
Total Capacity with plastic trays (sold separately): 1368 Quail Eggs (set and hatch 250 per week), 354 pheasant eggs, 270 chicken eggs, 198 turkey or duck eggs, and 36-45 larger eggs such as goose, peafowl, and emu. Actual capacity may depend on egg size.
DIMENSIONS: 30 1/4" Front to Back, 15 3/4" Wide, 31 3/4" High.
PLASTIC EGG TRAYS SOLD SEPARATELY 1243 (Quail), 1245 (Pheasant), 1246 (Chicken), 1248 (Duck/Turkey)
Can an incubator purchase be financed?

Unfortunately, we do not do any financing for any of our products. Credit cards will be your best bet if you are hoping to pay off an order.

My house is cool in winter. Can I put a blanket over the Incuview Incubator to insulate it?

This is an excellent question. If you are unable to keep the room temperature up in the room where the incubator is, you can definitely add some extra insulation. Insulation could be a blank, rag, Styrofoam, etc. As you insulate your incubator it is very important to keep in mind the need for ventilation. It is very easy to cut off air flow when adding insulation. However you choose to insulate make sure air can still freely flow in and out of your incubator.

I am looking at purchasing the GQF 1502 cabinet, can you confirm that this will fit that incubator?

Yes we can confirm that the Clear Door for New Cabinet Incubators is compatible with the GQF 1502 Cabinet Incubator. It is also compatible with the GQF 1500, 1550, and 1202E models.

Will you send cabinet incubators to Mexico?

We do sell cabinet incubators internationally! For all international locations, except Canada, we require the customer to find a freight forwarder to ensure safe delivery. If you would like to order a cabinet and have it sent out of the United States you can contact us through chat, email, or phone call. service@incubatorwarehouse.com 1 (208) 740-1344

Would the HumidiKit work with a larger cabinet incubator?

We have tested the HumidiKit in cabinet size models that are approximatley the size of a GQF cabinet incubator and it works great. The dimensions of a GQF cabinet incubator are approximatley 32" H x 32" L x 17" W. It would most likely work in a cabinet incubator larger than this but might need to be modified with a larger hose to be able to deliver more mist into a larger incubator.

Will you send cabinet incubators to Canada?

We sure do. Just add the cabinet you want to order to the virtual shopping cart and proceed to the checkout screen. From there you can enter your country, province, and postal code to get your shippin cost.

What type of material are the GQF Sportsman cabinet incubators made of?

The walls of the GQF cabinet incubators are made out of a PVC plastic material that is injected with air to make it insulate better.
Product Instructions & Documents