HovaBator 2370 Deluxe Egg Incubator Combo Kit
Quail Tray
None
Quail Tray for IncuTurn™ Automatic Egg Turner
Humidity Management
None
HumidiKit™ - Auto Humidity System for Incubators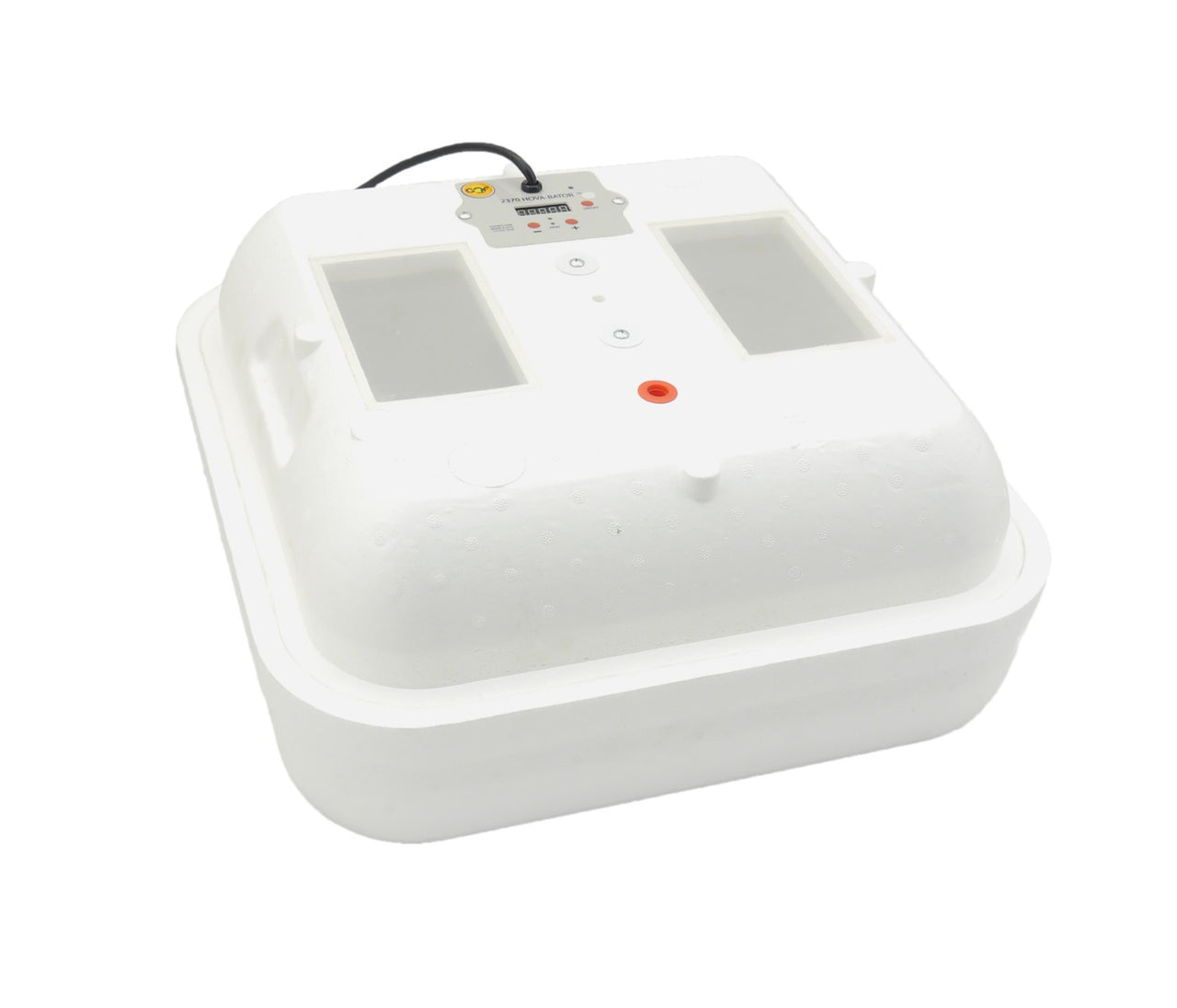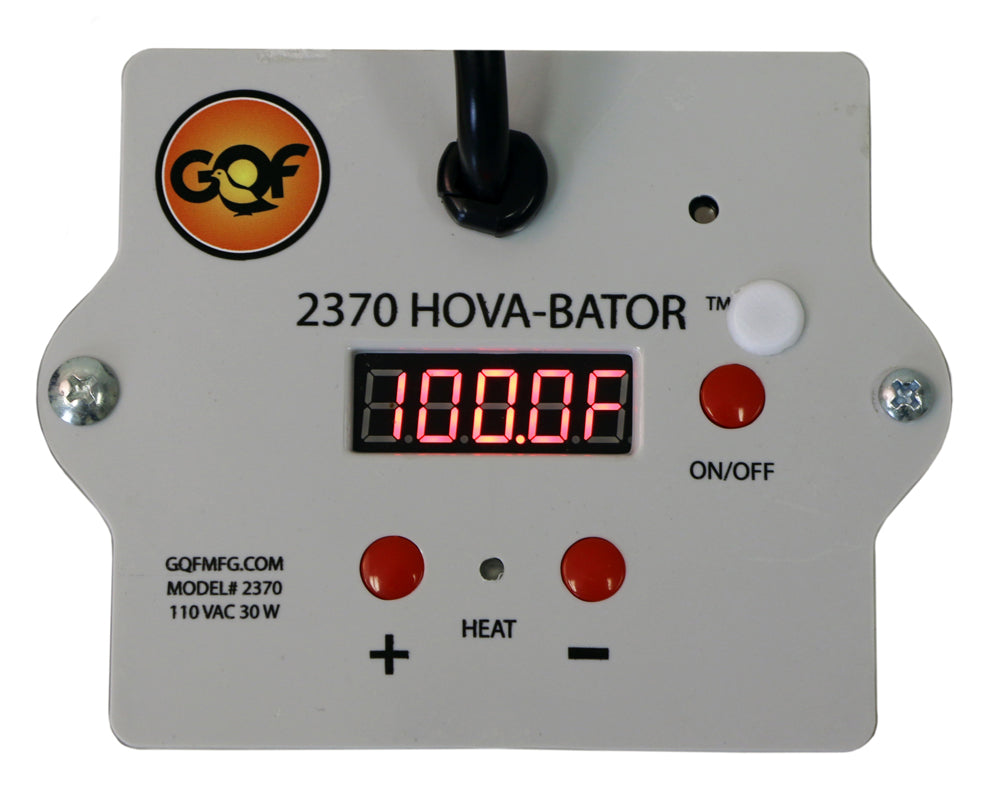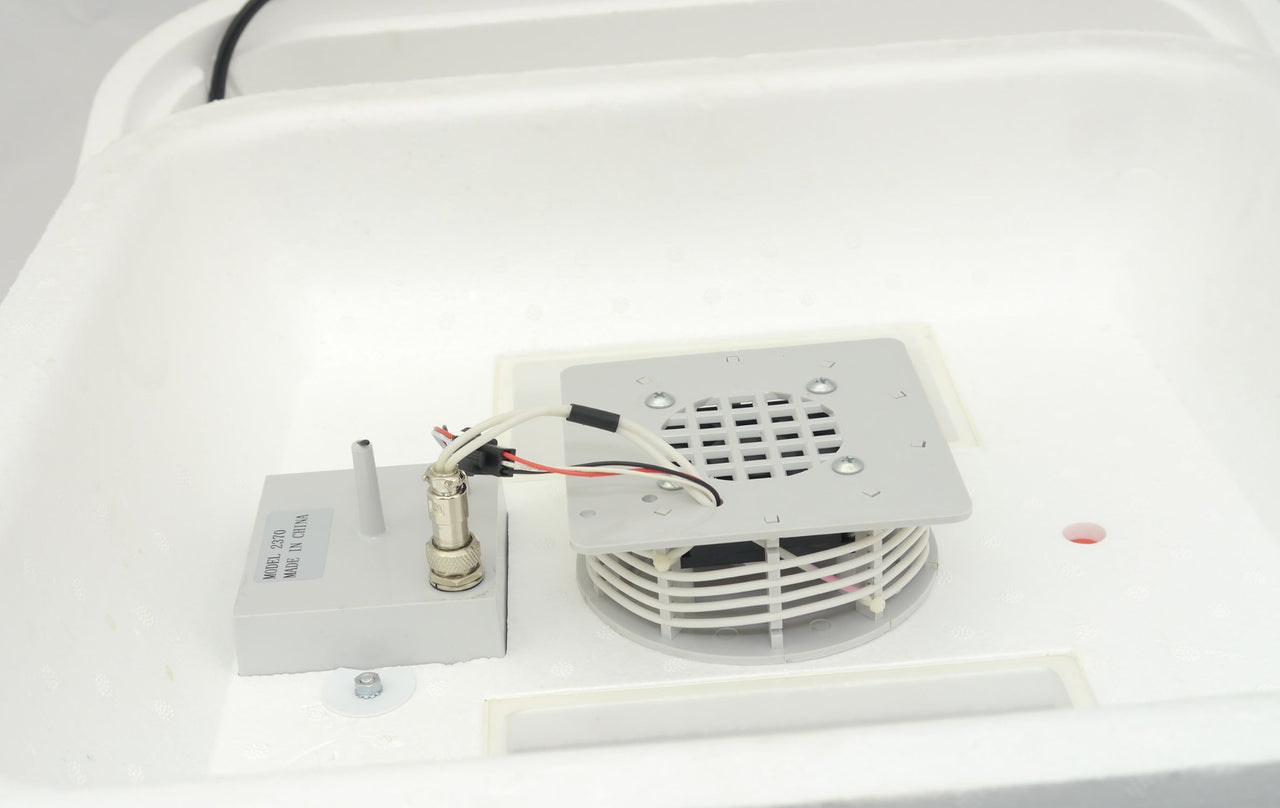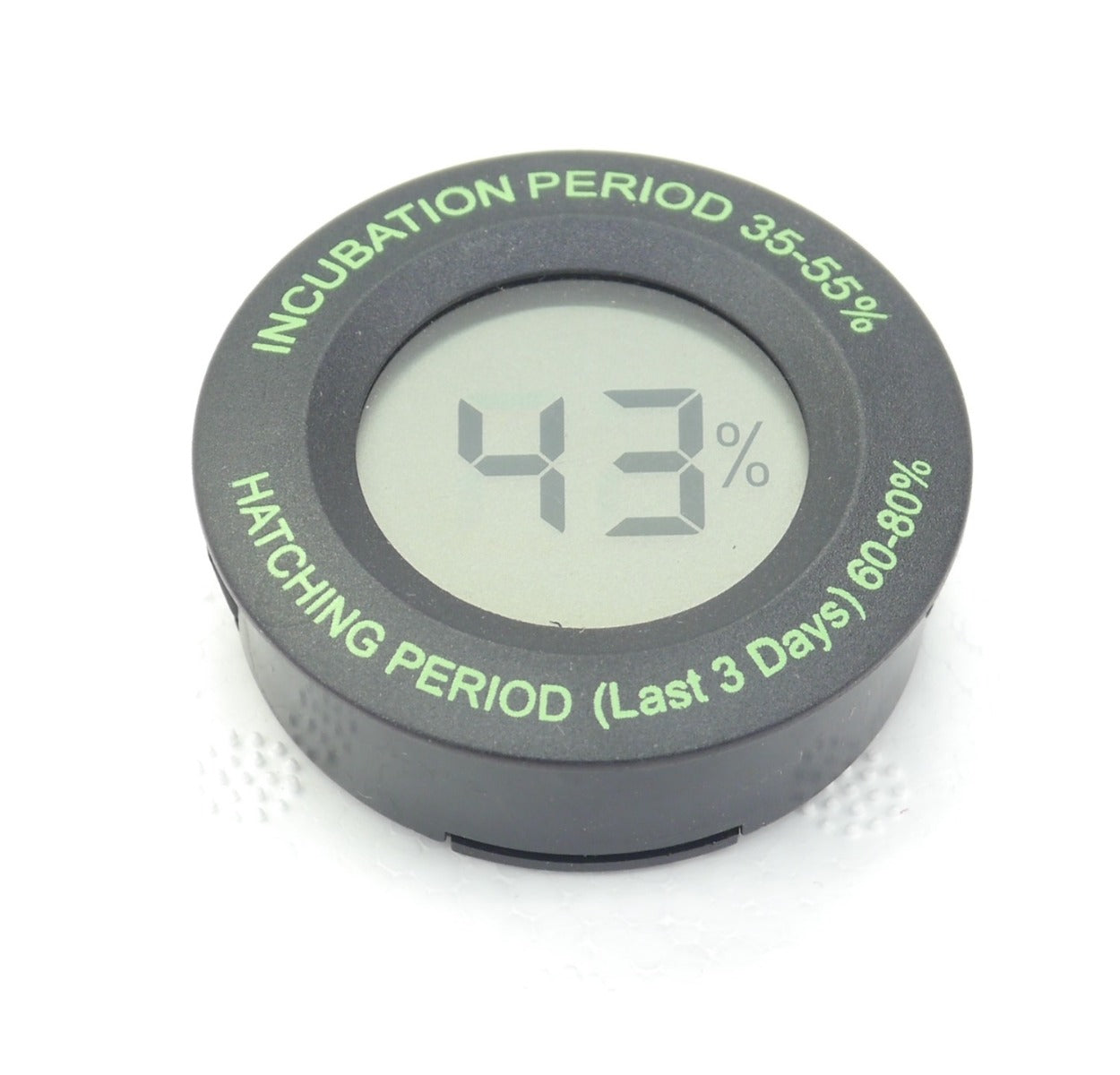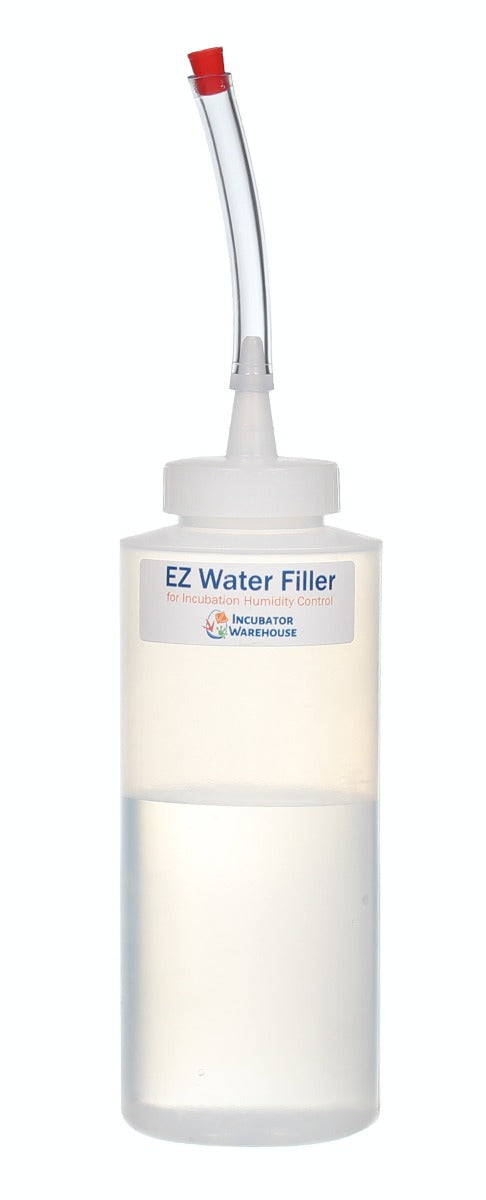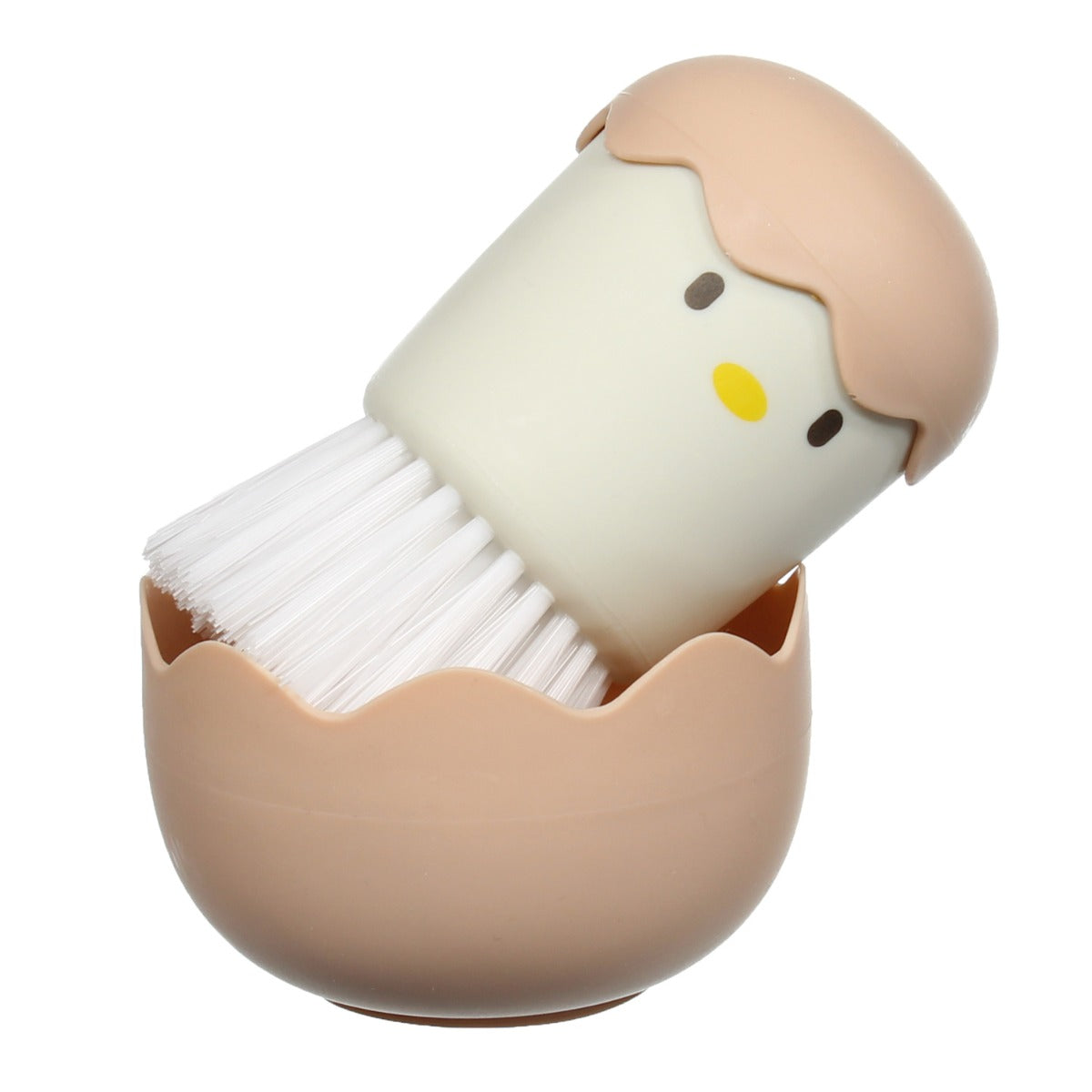 Description
More Information
FAQ
Instructions
HovaBator Incubator (Model 2370)
The thermostat is very accurate and reliable with a bright, easy to read display. Temperature reading can be changed from Fahrenheit to Celsius. Fan can be turned off for incubating reptile eggs. This incubator also includes two 4x6 inch windows on top for viewing, as well as high sidewalls to keep birds inside when the lid is removed. This incubator can hold approximately 46 chicken, 188 quail, 90 pheasant, and 40 turkey or duck eggs. This is a 110V version, purchase the voltage converter for 220/240V use.
IncuTurn™ Automatic Egg Turner for HovaBator Egg Incubators
The IncuTurn™ for HovaBator has been carefully engineered and tested and will fit all current HovaBator desktop incubators. The universal egg tray holds any size egg, saving you from purchasing expensive egg racks for different egg sizes. The automatic egg turner gently rolls the eggs six times per day, which prevents the yolk from settling while exercising the embryo. This rolling action is very similar to how eggs are turned in nature. The universal egg tray can hold 42 Chicken, 70 Quail, or 28 Goose eggs.
Installing the IncuTurn™ for HovaBator is a breeze, simply slide the motor clip over the edge of the incubator and attach the turning tray and you're ready to start incubating. This product is a direct replacement for all HovaBator Egg Turners (including models 1611 & 1610). Guaranteed to outperform the HovaBator Egg Turners*. This is a 110V version, purchase the voltage converter for 220/240V use.
*Guarantee covered by Incubator Warehouse's 2 Year IncuCare Warranty
Quail Tray for IncuTurn™ (Optional Selection)
The Quail egg tray holds quail and small bird eggs and increases egg capacity to 116 quail eggs verses the 70 quail eggs that the universal tray can hold.
Incubator Warehouse Hatch Guidebook
This illustrated 28-page book is the printed version of our 4 Part Intro to Hatching YouTube Series (see video links below). It gives a basic introduction to incubating eggs and brooding chicks.
YouTube Video Series
Intro to Hatching Part 1/4: Setup
Intro to Hatching Part 2/4: Incubation Period
Intro to Hatching Part 3/4: Hatching Period
Intro to Hatching Part 4/4: After Hatch
Incubator Warehouse EZ-Clean Chick Brush for Cleaning Incubator & Egg
Cute Chick Brush for cleaning incubator or Eggs. 3 in x 4 in
IncuBright™ Egg Candler
One of the most exciting parts of incubating eggs is being able to watch the embryo progress during the various development stages. The IncuBright™ egg candler makes this joy possible by providing an easy and effective way to candle your eggs. It was designed specifically for candling eggs while keeping affordability in mind. The IncuBright™ uses the latest in LED light technology, having one super bright CREE bulb the IncuBright™ illuminates your eggs for easy viewing, even with dark or large eggs. The IncuBright™ has the only universal silicone rubber egg protector ring that lets you candle any size egg. The IncuBright™ is cordless making it easy use (batteries included).
E-Z Water Filler
The EZ Incubator Water Trough Filler makes the task of adding water accurately to any incubator a breeze. No more spilling water, overfilling, or guessing where your water will go.
IncuTimer™ Egg Incubator Hatch Countdown Timer
The IncuTimer™ was developed to make incubation of eggs easier. This simple and easy to use countdown timer helps you keep track of the time till your incubating eggs hatch. The IncuTimer™ has a maximum of 90-days and displays your remaining time till hatch day in days, hours, and minutes. When the countdown reaches 0 the alarm will sound alerting you. For convenience we have added the hatch times for some of the most common and popular birds incubated these days. This makes it easier to know what to set your timer for when you place your eggs into the egg incubator. Instructions on how to operate the IncuTimer™ are located on the back of each unit so you never have to worry about keeping up with an instruction sheet.
Digital Hygrometer
One of the biggest factors in achieving a successful hatch is correct humidity. With this factor in mind, we offer a digital hygrometer.
The Digital Hygrometer can accurately measure and display the relative humidity. A compact design allows the Digital Hygrometer to be placed inside the incubator without taking up much space while a large LCD screen makes it easy to read. This helps you ensure ideal conditions for a successful hatch. Battery INCLUDED (LR44 Button Cell)
Includes 2 Year IncuCare Warranty!
QUESTIONS & ANSWERS
Have a Question?
Be the first to ask a question about this.
Ask a Question
Product Instructions & Documents