HovaBator 2370 Starter Egg Incubator Combo Kit
Quail Tray
None
Quail Tray for IncuTurn™ Automatic Egg Turner
Humidity Management
None
HumidiKit™ - Auto Humidity System for Incubators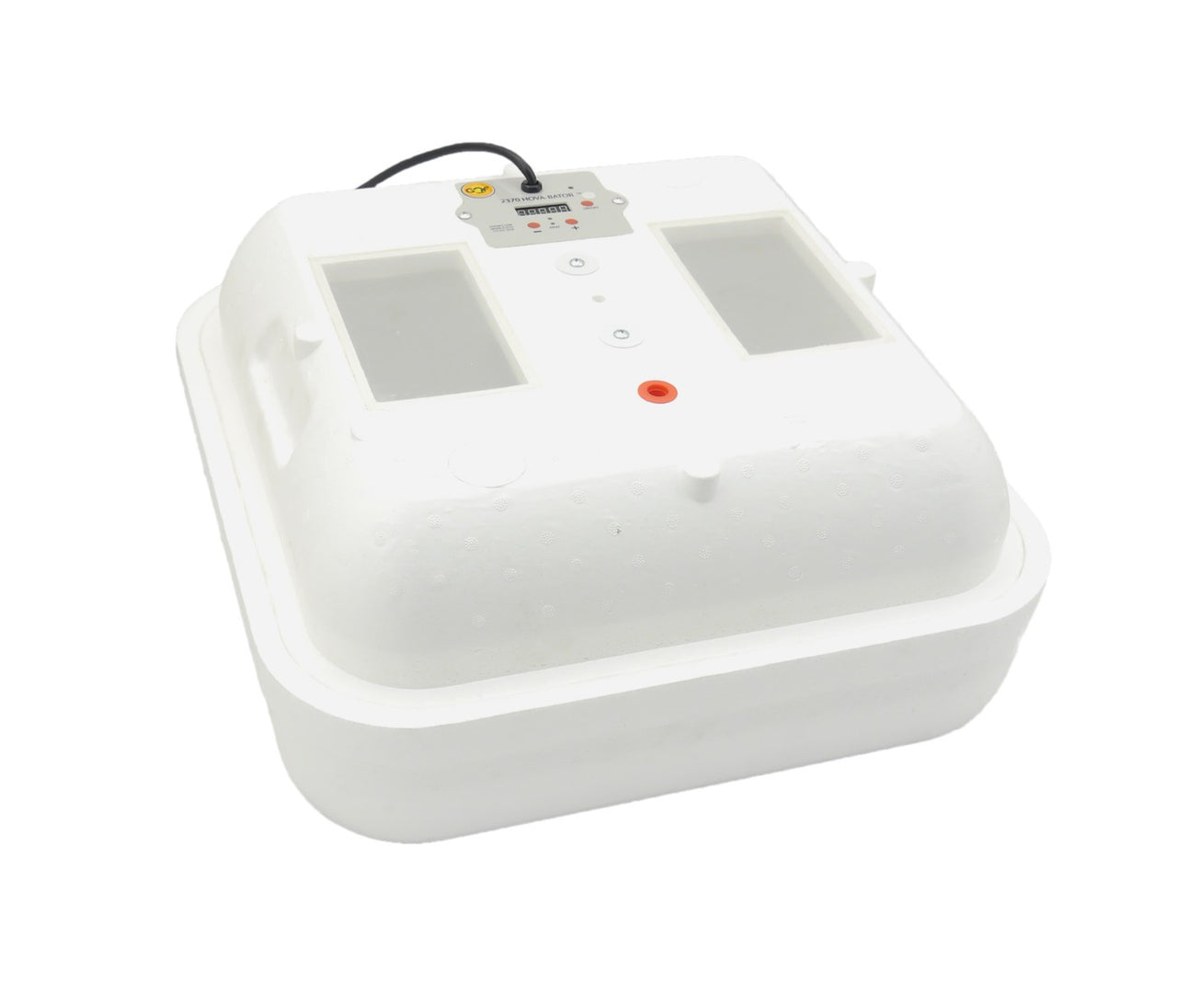 Description
More Information
FAQ
Instructions
HovaBator Incubator (Model 2370)
The thermostat is very accurate and reliable with a bright, easy to read display. Temperature reading can be changed from Fahrenheit to Celsius. Fan can be turned off for incubating reptile eggs. This incubator also includes two 4x6 inch windows on top for viewing, as well as high sidewalls to keep birds inside when the lid is removed. This incubator can hold approximately 46 chicken, 188 quail, 90 pheasant, and 40 turkey or duck eggs. This is a 110V version, purchase the voltage converter for 220/240V use.
IncuTurn™ Automatic Egg Turner for HovaBator Egg Incubators
The IncuTurn™ for HovaBator has been carefully engineered and tested and will fit all current HovaBator desktop incubators. The universal egg tray holds any size egg, saving you from purchasing expensive egg racks for different egg sizes. The automatic egg turner gently rolls the eggs six times per day, which prevents the yolk from settling while exercising the embryo. This rolling action is very similar to how eggs are turned in nature. The universal egg tray can hold 42 Chicken, 70 Quail, or 28 Goose eggs.
Installing the IncuTurn™ for HovaBator is a breeze, simply slide the motor clip over the edge of the incubator and attach the turning tray and you're ready to start incubating. This product is a direct replacement for all HovaBator Egg Turners (including models 1611 & 1610). Guaranteed to outperform the HovaBator Egg Turners*. This is a 110V version, purchase the voltage converter for 220/240V use.
*Guarantee covered by Incubator Warehouse's 2 Year IncuCare Warranty
Quail Tray for IncuTurn™ (Optional Selection)
The Quail egg tray holds quail and small bird eggs and increases egg capacity to 116 quail eggs verses the 70 quail eggs that the universal tray can hold.
Incubator Warehouse Hatch Guidebook
This illustrated 28-page book is the printed version of our 4 Part Intro to Hatching YouTube Series (see video links below). It gives a basic introduction to incubating eggs and brooding chicks.
YouTube Video Series
Intro to Hatching Part 1/4: Setup
Intro to Hatching Part 2/4: Incubation Period
Intro to Hatching Part 3/4: Hatching Period
Intro to Hatching Part 4/4: After Hatch
Includes 2 Year IncuCare Warranty!
QUESTIONS & ANSWERS
Have a Question?
Be the first to ask a question about this.
Ask a Question
Product Instructions & Documents