IncuView 3 Deluxe Egg Incubator Kit
AccuMist™
None
AccuMist™ - Auto Humidity System for IncuView3
AquaTank
None
AquaTank for IncuView 3 Pro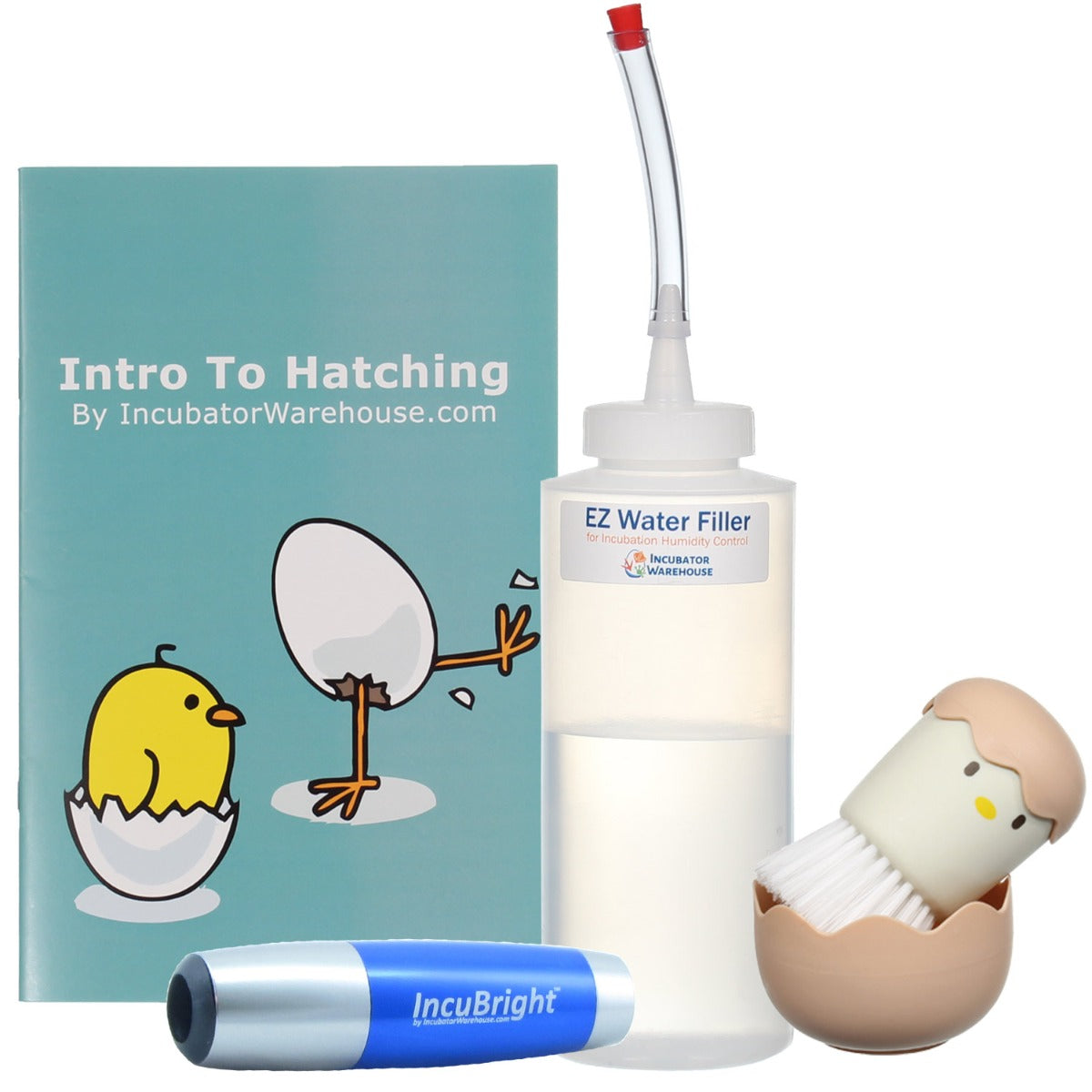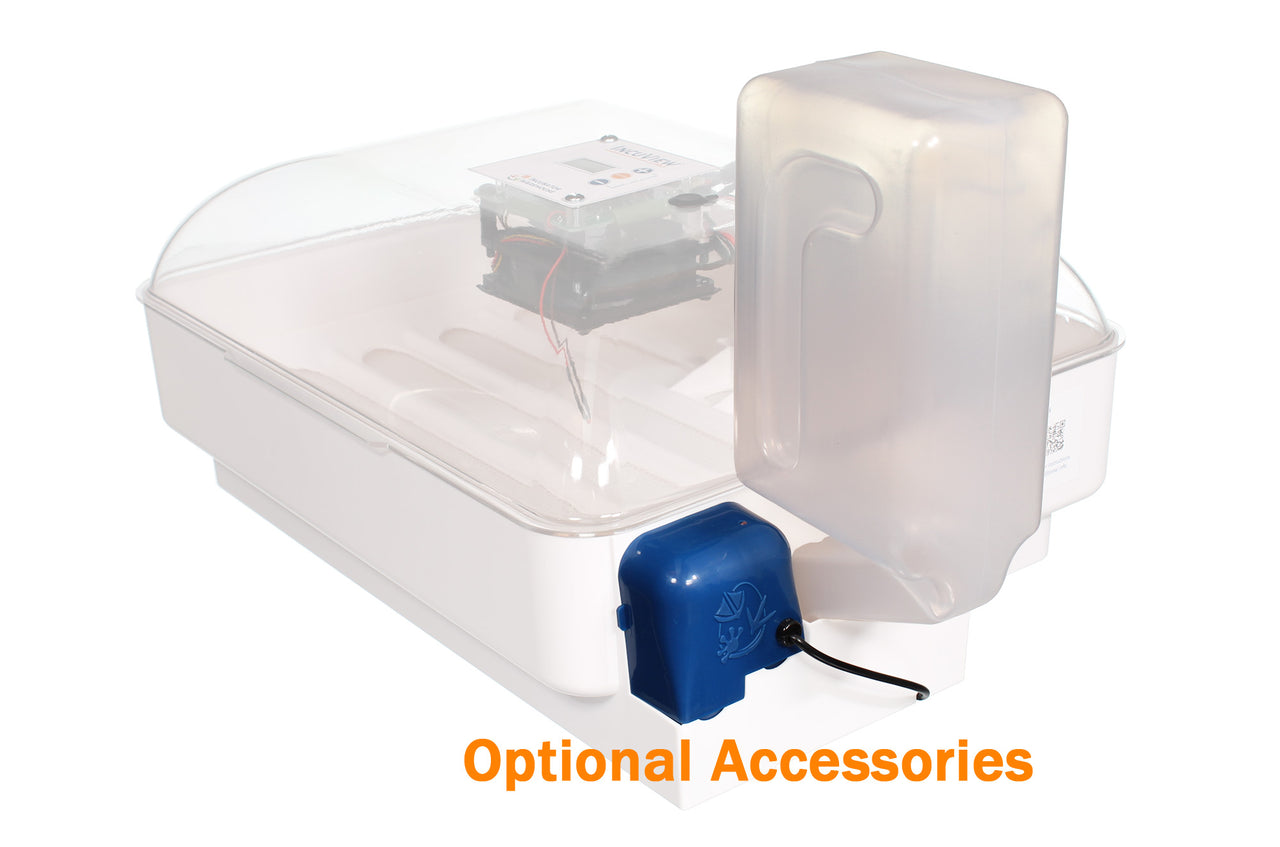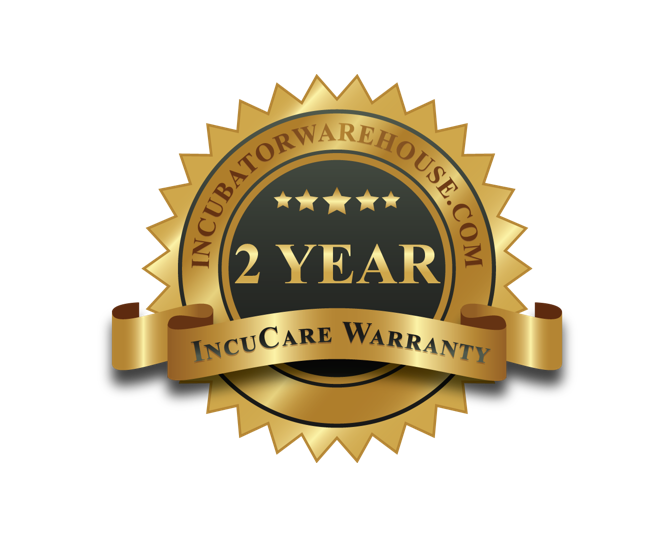 Description
More Information
FAQ
Instructions
IncuView™ 3 Pro
The easy-to-use IncuView 3 Pro is durable, accurate and reliable. It has a whole line-up of features not available on any other incubator such as a 360° crystal clear hinged lid, AI incubator control module, and the EZ-View humidity system.
The accurate IncuView 3 Pro Control Module has proprietary AI technology (Artificial Intelligence) to automatically select the best settings for the proportional thermostat to achieve a successful hatch. The control module accurately displays both temperature (°F or °C) and humidity. Never miss a pip, zip or hatch with the built-in LED viewing lights and hatch timer with automatic egg turner shutoff 3 days before hatch. All of these features and more make the IncuView 3 Pro Control Module the best incubator to trust your eggs to.
Beyond the electronics the IncuView 3 Pro is packed with features to make every hatch a delight. The 360° hatch view is simply amazing. The durable plastic base is easy to clean and dishwasher safe. The EZ-View humidity system allows you to easily check and fill the water in the system. All of this makes having a successful hatch easier than ever.. Purchase the optional AquaTank and then just insert the AquaTank into the correct EZ-View port and forget about humidity management until the tank needs to be refilled.
Egg Capacity: 27 chicken*, 49 Quail*, or 17 Goose*
12V 5 Amp DC power (Allows 110V OR 220V Input)
Incubator Warehouse Hatch Guidebook
This is a printed version of our 4 Part of our Intro to Hatching YouTube Series (see video links below)
Illustrated Guide to Hatching
Basic introduction to incubating eggs and brooding chicks
Product has references to our products but is overall very educational and informational
28 Pages
YouTube Video Series
Intro to Hatching Part 1/4: Setup
Intro to Hatching Part 2/4: Incubation Period
Intro to Hatching Part 3/4: Hatching Period
Intro to Hatching Part 4/4: After Hatch
EZ Clean Chick Brush
Cute Chick Brush for cleaning incubator or Eggs. 3 in x 4 in
IncuBright™ Egg Candler
One of the most exciting parts of incubating eggs is being able to watch the embryo progress during the various development stages. The IncuBright™ egg candler makes this joy possible by providing an easy and effective way to candle your eggs. It uses the latest in LED light technology, having one super bright CREE bulb the IncuBright™ illuminates your eggs for easy viewing, even with dark or large eggs. It has the only universal silicone rubber egg protector ring that lets you candle any size egg and is cordless making it easy use (batteries included).
E-Z Water Filler 12 oz
The EZ Incubator Water Trough Filler makes the task of adding water accurately to any incubator a breeze. No more spilling water, overfilling, or guessing where your water will go.
QUESTIONS & ANSWERS
Have a Question?
Be the first to ask a question about this.
Ask a Question
Product Instructions & Documents