Little Giant 9300 Premier Egg Incubator Combo Kit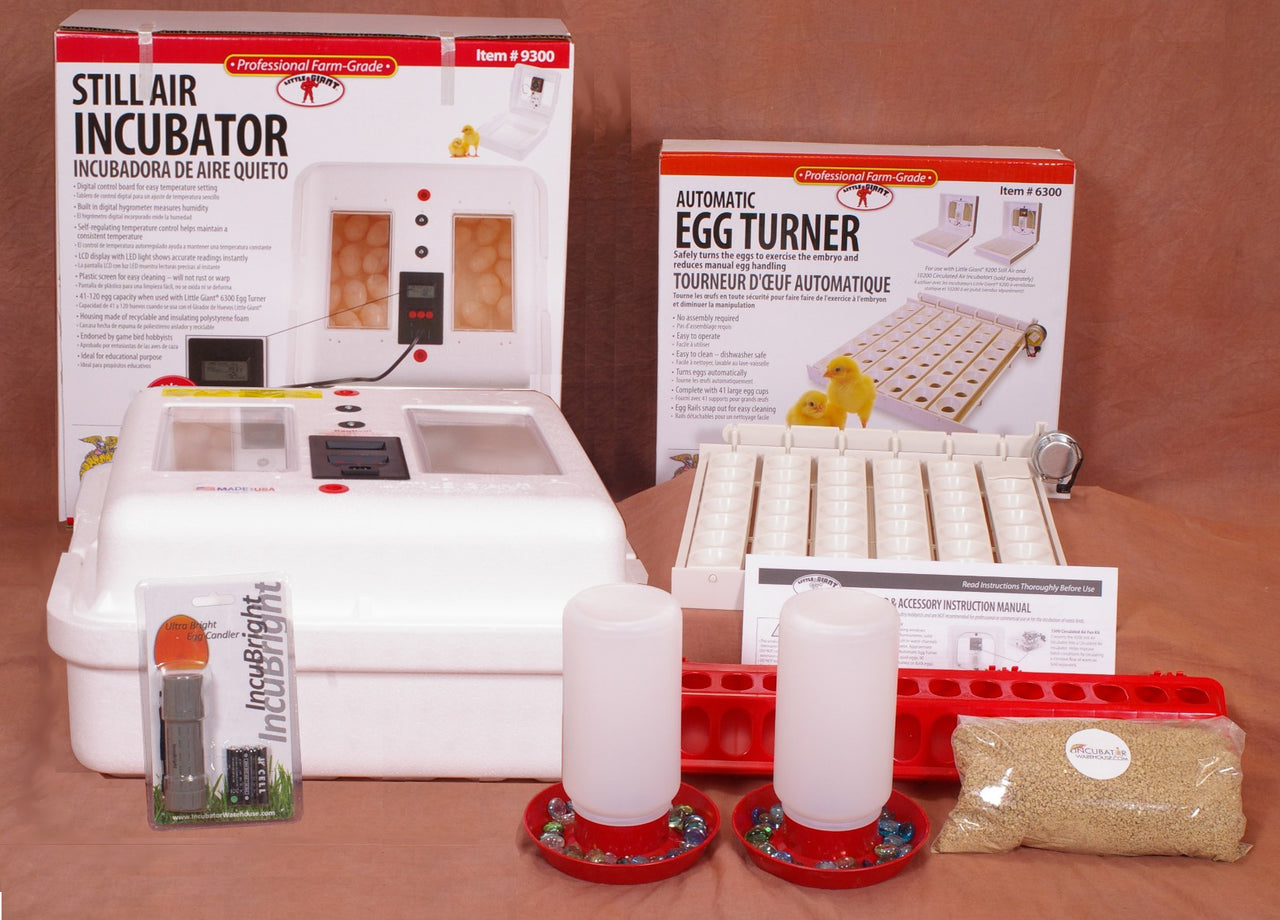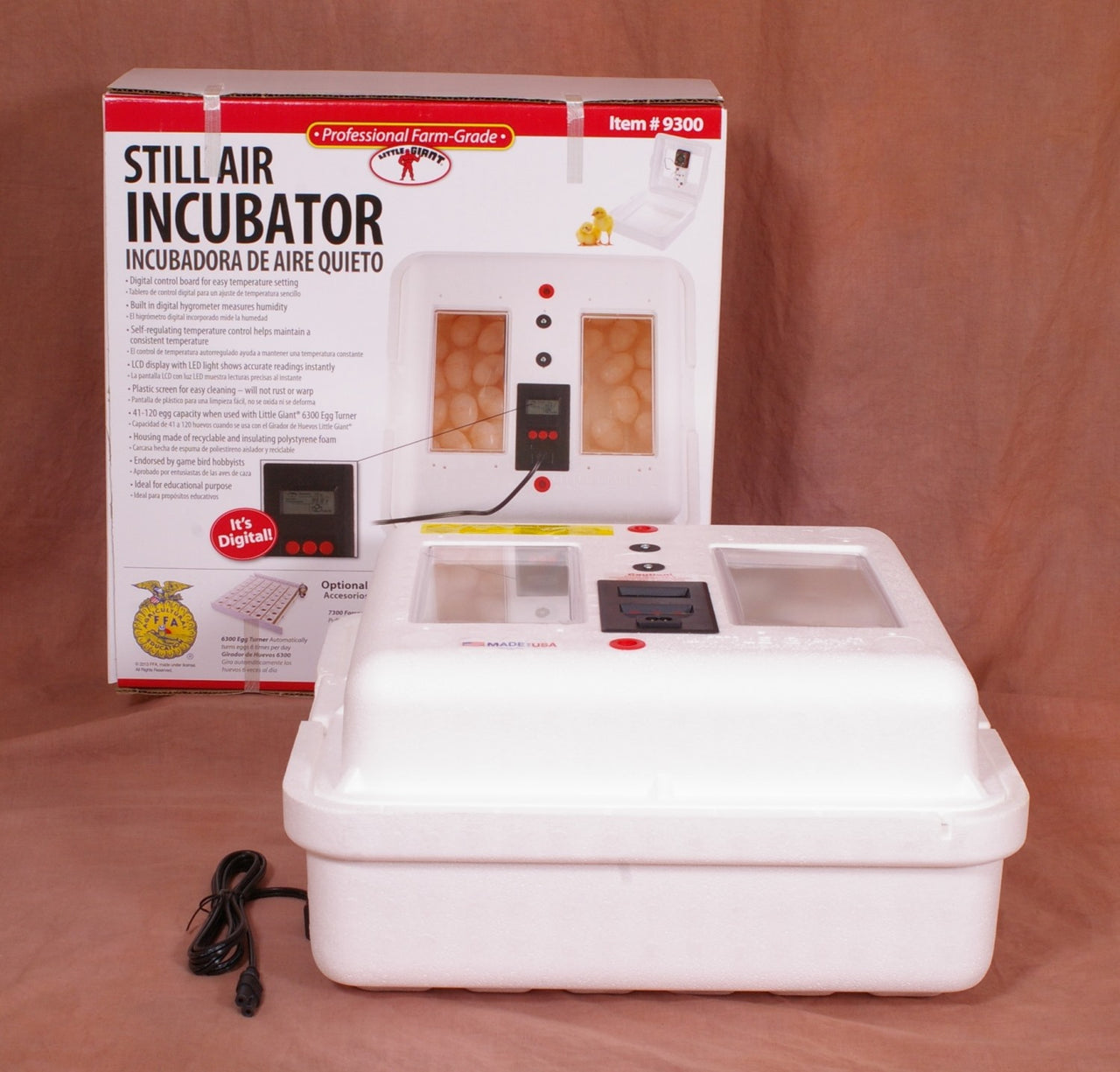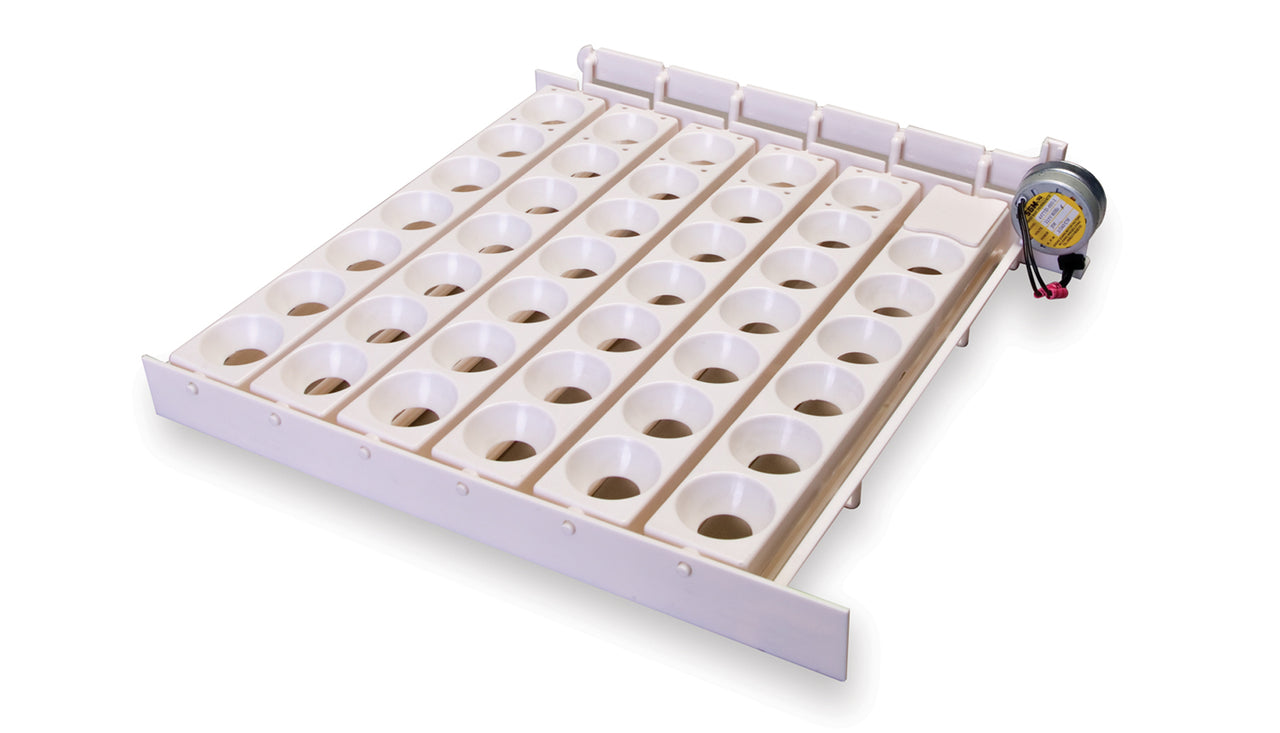 Description
More Information
FAQ
Instructions
Little Giant Incubator 9300
The Little Giant Incubator has a digital electronic thermostat with LCD screen and LED backlight. Made of durable styrofoam to help retain warmth and keep a constant temperature. Incubator features two 4 in x 8 in viewing windows-ideal for educational purposes and digital electronic thermostat control with digital display of temperature and humidity, plastic mesh floor (Doesn't rust or cut birds), and moisture rings (Fill the 1 or more of the moisture rings to change the humidity level). This is a 110V version, purchase the voltage converter for 220/240V use.

Little Giant Egg Turner 6300
This egg turner will automatically turn the eggs 6 times per day and comes complete with universal/Chicken sized rails that will hold 41 eggs (Can hold 41 of any size egg from Quail to Duck) . It's easy to clean and the egg racks are dishwasher safe. This combination of incubator and turner will provide you with a great all around incubator for hatching your eggs. This is a 110V version, purchase the voltage converter for 220/240V use.

Installed Circulated Air Fan Kit (Replaces 7300)
Temperature variation within the incubator has a significant impact on your hatch rates. Heat naturally rises, so you need to circulate the hot air from the hot spots to the cool spots for a much more uniform and consistent temperature and better hatch results. The more consistent air temperature also ensures that your thermostat is cycling on and off at the appropriate times, not just when the air around the thermostat heats or cools. This listing comes with a completely installed fan kit.
Incu-Bright Egg Candler
The Incu-Bright was designed with ease of use and affordability in mind. 6 ULTRA-BRIGHT, super cool LED lights illuminate your eggs for easy viewing without cooking them. The soft rubber and plastic edges protect your eggs from damage and create a tight seal around the egg. The Incu-Bright is brighter & easier to use than the HovaBator Cool-Lite Egg Candler.
Feeder & Waterer Kit
The Incubator Warehouse.com feeder and waterer kit provides you with the essential supplies to feed and water your new birds after they hatch.
2 - Mason jar waterers
2 - Plastic screw-on jars
1 - Pack of Waterer Stones (Reflective Color attracts birds & Prevents Drowning)
1 - 20" durable flip-top feeder
1 - Pack of high protien starter food (Bird Feed not included for Shipments outside of US & Canada)
1 - Set of feeding instructions for birds
Optional Accessory (Select above)
Picture
Upgrade
Price
Description
$18

Quail Racks for Little Giant Egg Turner 6300


-Converts Egg Turner so it can hold up to 120 quail eggs


-Easy to install (Instructions Included)

-Dishwasher Safe

$119

HumidiKit™ Automatic Humidity System


-Automatic and accurate humidity control

-Set your desired humity and it does the rest

-Programmable digital hygrostat

-Easy to install & use

$15

International Power Transformer for Egg Incubators

-This Incubator Kit uses 110V AC power (This kit includes everything needed to use the incubator kit with 220/240V Power)

-Converts 220/240V Power to 110V Power (Up to 100 Watts)

-Rated for Continuous Use - Most converters only work for 20 - 30 minutes at a time

-Can power Egg Incubator, Egg Turner, & Fan Kit
QUESTIONS & ANSWERS
Have a Question?
Be the first to ask a question about this.
Ask a Question
Product Instructions & Documents