Little Giant Automatic Egg Turner 6300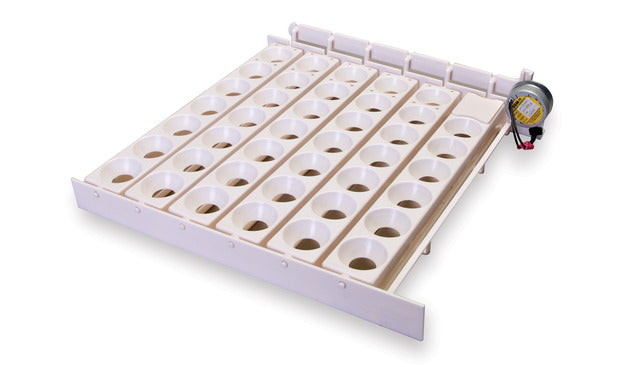 Description
More Information
FAQ
Instructions
This egg turner is great for those who prefer a more hands off approach to incubation. It is designed to fit into any Little Giant incubator and requires no assembly. It has one set of six universal racks and can hold up to 41 eggs of any size, from quail to duck. An electric motor gently rocks the eggs--6 times a day, 30 degrees in each direction. This prevents the yolk from settling and helps exercises the embryo. The removable rails and dishwasher safe plastic make cleaning easy.
Additional accessories can be purchased for your incubator to improve your hatch rate and your overall experience, including an Egg-O-Meter, an IncuTherm Plus hygrometer/thermometer, and an Incu-Bright egg candler.
This item, along with the majority of our products, is covered by our Two Year IncuCare Warranty. Purchase today with no worries and experience the Little Giant automatic egg turner for yourself.
International Customers
This automatic egg turner uses 110 Volt AC Power. For international customers (220/240V), you must purchase the IncubatorWarehouse.com international power converter or choose the 220/240 Volt motor at checkout to maintain product warranty.
Can the 1611 "HovaBator Automatic Egg Turner w/ 6 Universal Egg Racks" be used in the Little Giant 9300 incubator?

Unfortunately the HovaBator turners cannot be used in the Little Giant incubators. On the flip side the Little Giant turners are compatible with the HovaBator incubators.
Product Instructions & Documents