IncuKit™ MINI for Desktop Incubators | Thermostat, Fan & Heater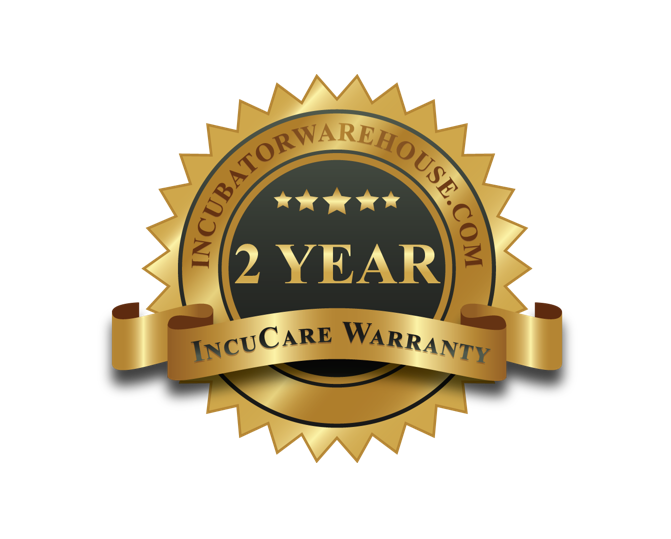 Description
More Information
FAQ
Instructions
Many people prefer to build their own incubators. This is a fun do-it-yourself project. We've found that the biggest difficulty people run into while developing their incubators is being able to find a reliable heat source and thermostat. We've solved this problem by creating the IncuKit™ series thermostat fan heaters.
We have created the IncuKit™ MINI to turn any small container into an incubator. This provides the heat, air circulation and thermostat control you need to accurately control the environment in your container for hatching eggs.
The IncuKit™ MINI comes with a proportional thermostat, built-in 40 watt heater, and a built-in fan. The proportional thermostat controls the amount of power that is supplied to the heater instead of simply turning the heater off and on. This provides more accurate temperature control than a standard off/on thermostat. The thermostat also comes preset to 99.5 degrees F which can be easily adjusted if necessary. The digital display makes it easy to read the current temperature and to make changes. The IncuKit™ MINI operates on low 12 Volt DC power and includes an AC-to-DC converter that works with both 110/120v and 220/240v power input. An optional DC turner motor can easily be added which is controlled by the control module and is fully adjustable. In case of power outages, the IncuKit™ MINI can also be powered with a 12V battery (additional battery connectors required).
NOTE: You can optionally purchase the car power adapter or battery clips so you can keep your incubator running while on the road! This can be especially handy if you are transporting eggs or queen bee cells to their new location.
As always, all of our products are covered by our 2 Year IncuCare Warranty. Purchase today with no worries and experience the IncuKit™ MINI for yourself.
How to determine the appropriate size container for the IncuKit MINI:
There are several factors that determine how much power will be required to heat your container up to the appropriate temperature to hatch eggs. The size of the container, how well it is insulated, the room temperature and how much the room temperature fluctuates will all have a significant impact. The best way to determine if the IncuKit™ MINI is the right size for your container is pretty simple. Just put a 40 watt light bulb in your container (ensure it is thermally insulated since they get pretty hot!) and measure how warm your container gets. If it easily gets to at least 100 degrees F, then the IncuKit™ MINI should work. It is the user's responsibility to determine if this product will generate enough heat for your container.
See this video for an overview of the IncuKit MINI:
Can this product be shipped to Australia and be supplied with an Australian power cord or adapter?

We automatically include plug adapters for International orders. Please remember to check the voltage before ordering. This item works with 110-240V AC so it is no problem but some products are only 110V & 220V.

Can you unit be set in Celsius? Can it do tenth of a degree increments such as 35.7 degrees or would I have to choose between 35 and 36 degrees?

Yes you can set the 'IncuKit™ MINI for Desktop Incubators' to be in Celsius. You can set the temperature in increments of 0.1 degrees.

Can this unit be used to control the CABINET EGG TURNER MOTOR 110V AC | 1 RPM ?

Unforutnately no, the 2 are not compatible.

Does the fan blow downward (away from the heater) in the provided configuration? If so, can it easily be switch to blow upward (into the heater) to provide less direct air blowing onto occupants of the incubator chamber? For instance, can the wires to the fan be reversed to switch direction of the fan?Also, can the fan speed be significantly slowed or is there a point where the fan will no longer turn below a certain point?

The way the IncuKit Mini is set up the fan blows up, over the heating elements on the control module, there is no need to reverse it. There are a few settings changes that can be made in the control options but fan speed is not one of them.

How do I determine what wattage of heating element I will need for my incubator?

One of the simplest ways to determine what size of heating element you need in an incubator is what we call the light bulb test. To perform this test, you simply place a light bulb(s) in the incubator with the approximate wattage that you think will work. If this heats the incubator to or a little above the desired set temperature approximately the same wattage of heating element will also work. If it goes over by a lot than you will want a lower wattage heating element. If it takes a long time to heat up or never reaches the desired temp you will need a larger heating element.

What size of an incubator will the IncuKit heat?

There is not a predetermined size that the IncuKit will work for. This is because each incubator is built different and it is impossible to know which IncuKit will work for each design. There are several factors that will affect which IncuKit you will need to consider. A couple of these are the size, dimensions, and insulation. A good general rule of thumb for each size IncuKit is:

IncuKit Mini- Table top size incubators like a HovaBator or Little Giant

IncuKit XL With 1 x Heater/Fan – Approximately an incubator the size of an apartment refrigerator

IncuKit XL With 2 x Heater/Fans – Approximately the size of a GQF Sportsman Cabinet incubator

Before selecting an IncuKit we recommend performing a light bulb test to determine what wattage of heating element you will need. Click here to learn about the light bulb test.
Product Instructions & Documents