GQF 1502 Digital Sportsman Cabinet (Egg Incubator & Hatcher Combo)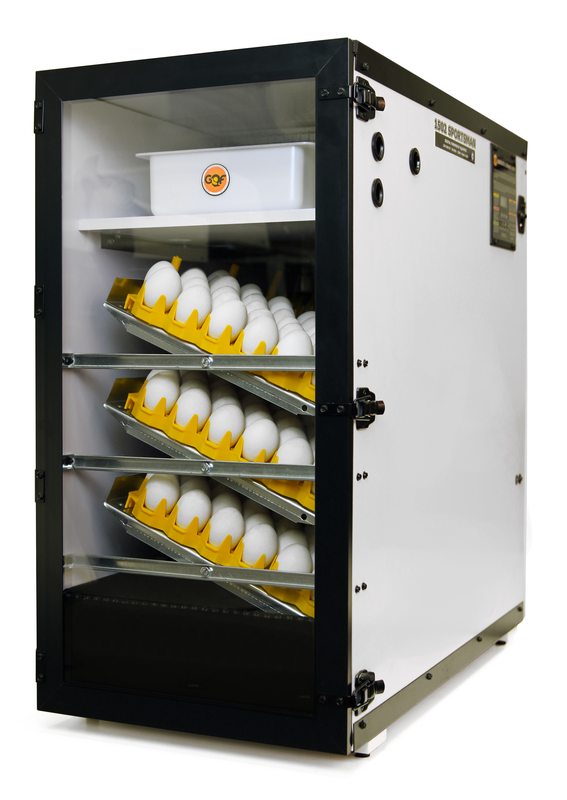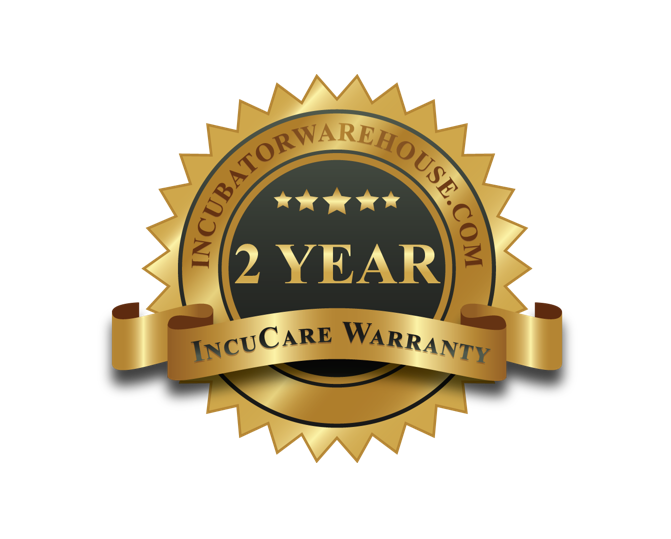 Description
More Information
FAQ
Instructions
The No. 1502 "SPORTSMAN" incubator offers an accurate digital thermostat with LCD display of Temperature and Humidity. An on-board computer monitors systems and the environment every second to keep itself updated and to share this data with you. Electronic egg turning control, audio/visual indicators and a standard easy view door highlight a number of standard features. This is a complete incubator and hatcher. In addition to having three automatically turned racks, it has a hatching tray in the bottom of the incubator. So if you are just getting started with a small flock, all you need is this one incubator. Set the eggs each week or so and then hatch the oldest setting eggs at the same time. Settings are rotated among the three turning trays so that the hatching tray can accept the eggs from one of the setting trays each cycle. Constructed from high strength plastic board making it well insulated, quieter, and easier to clean. Each unit is hand assembled by our skilled craftsmen and tested for a full 24 hours for proper operation and calibration. Thermostat operating range between 60 and 103 degrees F. depending on room temperature. 110-120VAC, 50/60 Hz, 325 Watts. TUV Listed. This incubator includes: - 1 #3258 Digital Command Center thermostat - 3 turning racks & 1 plastic hatching tray (no cover) - 1 moisture pan with 2 wick pads - Instruction booklet. Total Capacity with plastic trays (not included): 1368 Quail Eggs, 354 pheasant eggs, 270 chicken eggs, 198 turkey or duck eggs, and 36-45 larger eggs such as goose, peafowl, and emu. Actual capacity may depend on egg size. Hatching capacity is limited to the hatching drawer which is approximately 72 medium size or 250 quail size eggs at a time. METAL SETTING TRAYS, ITEM NO.3067 ARE SOLD SEPARATELY. THIS ITEM IS NOT NECESSARY FOR OPERATION, PLEASE USE PLASTIC EGG TRAYS (0243,0245,0246,0248) SOLD SEPARATELY
This incubator includes:
- 1 #3258 Digital Command Center thermostat
- 3 turning racks & 1 plastic hatching tray (no cover)
- 1 moisture pan with 2 wick pads
- Instruction booklet
DIMENSIONS: 301/4" Front to Back, 153/4" Wide, 313/4" High. PLASTIC EGG TRAYS SHOWN IN IMAGE SOLD SEPARATELY.
Does the Cabinet 1502 come with preset settings or do I have to set the temperature/etc?

The 'GQF 1502 Digital Sportsman Cabinet' comes pre-programmed. We recommend you run your cabinet around 24 hours before putting any eggs in. This allows you to familiarize yourself with the incubator and its settings.

Can an incubator purchase be financed?

Unfortunately, we do not do any financing for any of our products. Credit cards will be your best bet if you are hoping to pay off an order.

Is there a turner tray for peacock size eggs?

We do not have a specific peacock egg tray. However the peacock eggs are similar is size to goose eggs. The "Set of 6 Plastic Extra Large Egg Trays for Cabinet Incubator" is made to fit a variety of larger egg including goose and turkey eggs. Here is a link to the large turner trays: https://incubatorwarehouse.com/egg-incubators/cabinet/x-large-cabinet-incubator-egg-tray.html

How many amps does this incubator draw

The GQF 1502 Digital Sportsman Cabinet (Egg Incubator & Hatcher Combo) draws around 3 amps.

My house is cool in winter. Can I put a blanket over the Incuview Incubator to insulate it?

This is an excellent question. If you are unable to keep the room temperature up in the room where the incubator is, you can definitely add some extra insulation. Insulation could be a blank, rag, Styrofoam, etc. As you insulate your incubator it is very important to keep in mind the need for ventilation. It is very easy to cut off air flow when adding insulation. However you choose to insulate make sure air can still freely flow in and out of your incubator.

I am looking at purchasing the GQF 1502 cabinet, can you confirm that this will fit that incubator?

Yes we can confirm that the Clear Door for New Cabinet Incubators is compatible with the GQF 1502 Cabinet Incubator. It is also compatible with the GQF 1500, 1550, and 1202E models.

How does humidity work in incubation and hatching? Do you need different amounts of humidity for incubation and hatching?

Proper temperature and humidity levels are very important for a successful incubation. If either one of these numbers are significantly off it can ruin an entire incubator full of eggs. In this answer I will go over 6 tips for more accurate manual humidity control while incubating. Make sure you have done your research and understand the basics of incubation, it is important to have some knowledge of what you are doing before you even think about firing up your incubator. 1. Making sure you have the proper tools is important to any successful incubation. To properly read your humidity levels you will want to use a hygrometer. This is a tool for measuring humidity levels and is a necessity for incubation. Accurately knowing your humidity levels will help to increase hatch rates. 2. Different species of eggs may require different humidity levels. It is very important to research your species and the humidity levels recommended. 3. Most incubators come with a built-in water reservoir in the base of the unit…many of these bases have several small reservoirs for holding water. We suggest starting with the smallest water reservoir, add enough water to fill it and then let your incubator run for about 30 minutes. After the unit has had time to warm up and stabilize check your readings. You may find that your readings are too low, if this is the case add water to the next reservoir and repeat the above process. If your readings are too high you can add a new dry sponge to the incubator to help absorb any excess moisture. 4. All reservoirs filled and still low on humidity? Add a shallow/wide container of water to the incubator or, if there is not enough room a clean wet sponge will do the trick. Remember its surface area not depth that affects humidity production. 5. Need less humidity but you only have water in the smallest reservoir? To cut down on the exposed surface area of the water and reduce humidity levels add some pieces of styrofoam to the reservoir. 6. Several different models of incubators require you to remove the lid to add more water to the reservoirs. This can cause dramatic fluctuations in temperature and humidity. By attaching a 12 inch length of aquarium airline hose to the end of a clean condiment style squeeze bottle you can fill the reservoirs via the vent hole on the top of the incubator.

Will you send cabinet incubators to Mexico?

We do sell cabinet incubators internationally! For all international locations, except Canada, we require the customer to find a freight forwarder to ensure safe delivery. If you would like to order a cabinet and have it sent out of the United States you can contact us through chat, email, or phone call. service@incubatorwarehouse.com 1 (208) 740-1344

Would the HumidiKit work with a larger cabinet incubator?

We have tested the HumidiKit in cabinet size models that are approximatley the size of a GQF cabinet incubator and it works great. The dimensions of a GQF cabinet incubator are approximatley 32" H x 32" L x 17" W. It would most likely work in a cabinet incubator larger than this but might need to be modified with a larger hose to be able to deliver more mist into a larger incubator.

Will you send cabinet incubators to Canada?

We sure do. Just add the cabinet you want to order to the virtual shopping cart and proceed to the checkout screen. From there you can enter your country, province, and postal code to get your shippin cost.

What is the average life span of this incubator? Also, how is technical maintenance handled? Can we add an additional motor, etc.?

There is not a stated life span for this incubator. Our experience is that they last a long time. The incubator comes with a one year guarantee and any major issue is usually caght within this time. One nice feature is that most of the components are easily replaced if there is ever an issue. For technical issues you can either contact our customer service department or the manufacturer's customer service directly. When there is an issue the first step is to send replacement parts for the incubator. For this incubator you are not able to add any additional comonents, it comes fully assembled.

Can I use this for ostrich eggs and is there is egg trays for ostrich eggs?

The GQF 1502 cabinet incubator works very well for ostrich eggs when using the large egg setting tray. Each tray will hold up to 3 ostrich eggs depending on size and the 1502 can hold a total of 2 trays.

Large Egg Tray - https://incubatorwarehouse.com/large-egg-setting-tray.html

What type of material are the GQF Sportsman cabinet incubators made of?

The walls of the GQF cabinet incubators are made out of a PVC plastic material that is injected with air to make it insulate better.
Product Instructions & Documents